Danco Electrical Contractors of Raleigh has a well-respected specialty when it comes to servicing communications and data center projects. Although our industrial projects have included substantial installation projects, our commercial projects have increasingly become more complex with a need for more complex networks in the commercial sector.
Some of our representative service include:
Security and Access
Telecom (PBX) Room
Power and controls for Air Conditioning (HVAC)
Uninterruptible Power Sources (UPS) and Power Conditioning
Stand By and Life Safety Generators
Telecommunications and Video Wiring
Cat5e/Voice/Data/Fiber Optics Wiring
Wire Toning
We understand that effective communication is a cornerstone of commercial success, and expert electricians at Danco are able to repair, install or upgrade your communication network for optimal efficiency and reliability.
Advancing with the Speed of Sound
Danco invests in cutting-edge technology and is always on the forefront of technological advances in communication. We understand that an efficient communication infrastructure is an important, long-term asset to all commercial businesses, and our Raleigh electricians are experts in delivering electrical solutions that produce efficient, reliable communication networks.
Contact us today to find out more about upgrading your communication network.
Case Study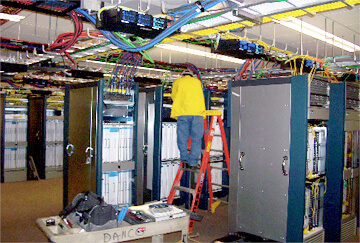 Computer Test Lab Retrofit
Industry:
Commercial
Job Type:
S Data Center Retrofit
Overview:
Danco Electrical Contractors, Inc performed a complete data center upgrade by installing multiple generators for UPS systems, DC Data Center equipment, and all associated IT Equipment. We also had responsibility for de-energizing the building, providing all temporary power during the retrofit and installing a new breakers for the service feeds.
Challenges:
As with many of our commercial projects, maintaining ongoing operations is usually a critical need. For this project the phasing was critical as illustrated:
Phase I – Stage generators and cables pre-work
Phase II – Disconnect Building power and connect temp power
Phase III – Shutdown building & install breaker
Phase IV – Disconnect temp and reconnect building power
Phase V – Remove equipment