Danco Electrical Contractors has a well-respected specialty when it comes to data center projects. Our electrical contractors of Raleigh have completed several large projects for global network and telecommunications providers that depend on reliable communication infrastructures. Danco invests in cutting-edge technology and is always on the forefront of technological advances in communication. Some of our data and communication services include:
Preparing Disaster Recovery Sites (DR)
Security and Access
Telecom (PBX) Room
Entrance Facility (XO Locations)
Operations Center
Power and controls for Air Conditioning (HVAC)
Uninterruptible Power Sources (UPS) and Power Conditioning
Stand By and Life Safety Generators
Fire Suppression Systems
Telecommunications and Video Wiring
Cat5e/Voice/Data/Fiber Optics Wiring
Wire Toning
We understand that an efficient communication infrastructure is an important, long-term asset to all businesses, and our electricians are communication engineers in delivering electrical networks that produce efficient, reliable communication.
Contact us today for more information about serving your communication and data infrastructure.
Case Study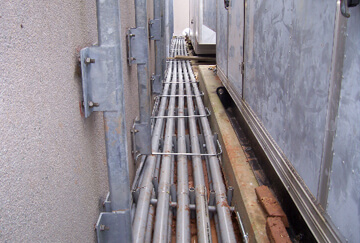 Major Data Center Feeds
Industry:
Industrial Data Center
Job Type:
Data Center Retrofit
Overview:
Danco Electrical Contractors, Inc retrofit a 2,000 KW generator in an existing building with an active data center. The project required installing 200 linear feet of 300A feeders in a duct bank, 3000A disconnects, and multiple duct runs to complete the power run.
Challenges:
The inherent challenge with most data center project is shunting the power to keep servers operational as well as all HVAC and lighting. In this project, isolating the generator sections, while maintaining power for critical business applications, proved to be formidable.