Danco Electrical Contractors of Raleigh is fully experienced in all aspects of the commercial project environment, including the demanding quality requirements, levels of complexity, operational schedules and cost sensitivity. We understand the nature of commercial operations and the critical elements required for project success.
Danco Electrical Contractors, Inc has installed every type of commercial equipment and fixture commonly used in retail, manufacturing, restaurants, offices, government facilities, and warehouses.
Our services have included the following:
120/240, 120/208, or 277/480 Volt Wiring
Air Conditioning Wiring
Breaker Panel Indexes/Schedules/Upgrades
Circuit Tracing and Identification
Code Violations
Dedicated Circuits
Ground Fault Breakers (GFI) and Receptacles (GFCI)
Office Wiring
New Receptacle Outlets
Transformers
Troubleshooting
Violations
Emergency Exit Lights
Fluorescent Lights
HID Lighting (High Bay and Wall Pack)
Motion Sensors, Photocells, and Timers
At Danco, we understand that although you need your electrical equipment and fixtures to be repaired, serviced or upgraded, commercial settings are time sensitive operations in which lost time translates to lost revenue. As a leading electrical contractor of Raleigh and surround areas, we are able to work with your schedule to get the job done quickly, effectively and as non-evasively as possible.
Contact us today for your equipment and fixture upgrades and installations.
Case Study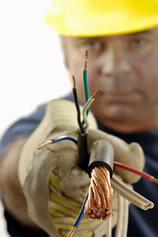 Industry:
Medical (Urgent Care)
Job Type:
New Construction
Overview:
Danco Electrical Contractors, Inc was hired to complete a 20,000 square foot shell build out and upfit to accommodate a new urgent care medical facility. The client was a world-renowned teaching hospital and major university. The job included all power, lighting, and controls for a 36 Patient Care Room Facility. This is particularly noteworthy due to the rigorous codes and equipment requirements for medical and hospital facilities, including coordinating the service change and transfer switch installation.
Challenges:
One of the primary challenges was a critical schedule delivery, within 120 calendar days, to accommodate anticipated patient loads and to correspond to new medical services provided by the university. Other job challenges included the need to provide temporary power to all associated trades based upon their phasing and installation requirements.